Close friends of iconic actor and national treasure Barbara Windsor have unveiled themselves as an all-star team known as 'Barbara's Revolutionaries' that will run the 2019 Virgin Money London Marathon.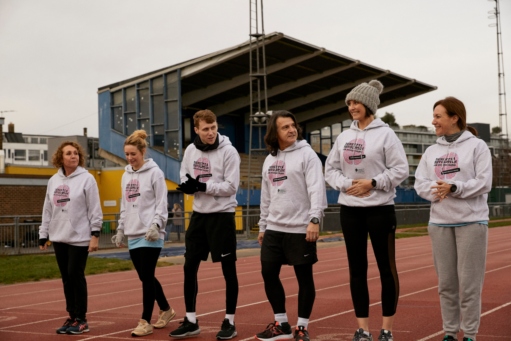 To the delight of the well-loved screen star, the team will be running for the Dementia Revolution, a year-long campaign created by dementia charities Alzheimer's Society and Alzheimer's Research UK for the event's Charity of the Year.
In a video released by the team, the star-studded group of actors who worked with Dame Barbara on popular soap EastEnders, met for a preparatory training session with Barbara's husband Scott Mitchell, the leader of the inspirational team.
The group donned Dementia Revolution running gear for a spirited stretching and sprints session with professional trainer and coach Martin Yelling, before sharing their motivations for taking on the incredible challenge in support of close friend Barbara, who was diagnosed with Alzheimer's disease in 2014.
Those bravely pulling on their running shoes are Adam Woodyatt, Jake Wood, Emma Barton, Natalie Cassidy, Kellie Shirley, Tanya Franks, Jamie Borthwick and Jane Slaughter, who all forged firm friendships with Barbara during their time on the soap.
United in support of the star, the group have joined the Dementia Revolution campaign in a bid to raise much-needed awareness of dementia and to raise £100,000 to power ground-breaking research into the cruel disease.
Barbara Windsor herself previously expressed her support for the Dementia Revolution in October 2018, when husband Scott announced that he would be running the marathon on 28 April, coincidentally his 56th birthday, in a video that received thousands of views.
Dementia is the biggest health threat facing society with almost a million people living with the condition in the UK – it is now the country's leading cause of death, ahead of heart disease. There are currently no effective treatments to slow, prevent or cure the diseases that cause dementia, but scientists are working tirelessly to beat the condition.
The Dementia Revolution sees Alzheimer's Society and Alzheimer's Research UK working together to overthrow old attitudes towards dementia and raise millions of pounds for the most ambitious dementia research initiative the UK has ever seen – the UK Dementia Research Institute (UK DRI), powering ground-breaking research to find better treatments and a cure.
Speaking about the creation of Barbara's Revolutionaries, Scott said: "From the bottom of my heart I really admire all of the team for taking on the Virgin Money London Marathon for the Dementia Revolution – it is such an amazing show of their love and friendship towards Barbara.
"It's one thing to be friends with someone, but when people say that they're going to give up their spare time and much needed days off and instead dedicate them to a cause that means so much, then that really is extraordinary – to both Barbara and me it's so incredibly special."
Dame Barbara Windsor added: "It means so much to me to see some of my closest friends coming together to support this cause. And I know it will mean a lot to everyone else living with dementia."
Jeremy Hughes, CEO of Alzheimer's Society, said: "It is absolutely fantastic that so many close friends of Dame Barbara Windsor have come together to form Barbara's Revolutionaries and are taking on the Virgin Money London Marathon for the Dementia Revolution. It's a display of true friendship in support of a cause that is so vital."
Click here to sponsor Barbara's Revolutionaries.